Chrissy & Danielle
Getting stuff done with Chrissy & Danielle


Meet Chrissy Rutherford and Danielle Prescod, who, after over a decade in fashion and media, formed the consulting company 2BG (Two Black Girls) to guide brands on diversity and inclusion.

Meet Chrissy Rutherford and Danielle Prescod, who, after over a decade in fashion and media, formed the consulting company 2BG (Two Black Girls) to guide brands on diversity and inclusion.
Tell us about your career journey.

Danielle: I was obsessed with magazines, and I got my first internship when I was 18 at Nylon Magazine. I was attending college in Boston at the time, and it devastated me to pack up and head back there in the fall. I was never the same, so I transferred schools to NYU instead so that I could really make sure that I was interning constantly. Unfortunately, I was in the traditional liberal arts college and so they wanted to put a cap on my internship credits. I thought that was stupid, so I transferred again. I ended up in the Gallatin School of Individualized Study where I could do my own thing. I got a job before I had even graduated college. I finished my credits early, and I did not even want to take a day off to go to the ceremony. I was persuaded to change my mind by both my family and my boss. After that, I moved amongst many magazines until I ended up at BET.

Chrissy: I've known that I wanted to work in fashion since I was 13 years old—I always loved clothes and read fashion magazines obsessively. In college I got a summer internship in the fashion closet of Harper's Bazaar. I was hooked, so I did it again the following year. My career definitely got off to a slow start because of the economic recession that hit the year I graduated college. So, I spent the first 2 years freelancing—working at a showroom, assisting stylists, anything that kept me on the fashion path. I finally got my big break thanks to an editor I had interned for at Bazaar. He was the Fashion Director at InStyle.com and brought me in as an editorial assistant. After that, I had a short stint at Cosmopolitan magazine, until I got the call to go work at Bazaar.com with an editor I had met at InStyle.com. I put in almost 9 years at Bazaar, doing everything from shopping stories, interviewing celebrities, writing personal essays about my hair journey and my experiences with anxiety, attending industry events, styling shoots, going on TV, booking talent, and running the Instagram account. I left Bazaar in February 2020 to go out on my own. I wasn't really sure what I was going to do, and now I own a consulting company with Danielle.



Who has made an impact on your journey?

Danielle: I had two really important mentors that had a huge impact on my career path, Taylor Tomasi Hill and Shiona Turini. I also had two wonderful male bosses at BET to whom I am eternally grateful, Damien Scott and Jermaine Hall.



Who inspires you and why?

Chrissy: My parents are definitely my biggest inspiration. They're Jamaican immigrants who came to the US with little formal education or money, but they were ambitious, determined, and worked so hard to get our family where we are today. They've always been a big support system for me and really encouraged me to believe that all my dreams were within reach.



If there's one thing you wish you would've known when you started out, what would that be?

Danielle: That grind culture is a trap. Working yourself and stressing yourself to death is real and super not worth it. Also, your job does not care about you.



What cause or causes are important to you?

Danielle: Cultivating more self-love in Black girls and women which ultimately leads to empowerment. Affordable therapy and mental health resources for people of color and destigmatizing mental illness in general.



What change do you hope to see in the rest of 2020?

Chrissy: I hope to see people become more conscious consumers and realize that their money and attention (social media likes/follows) empower people. We have to give more thought to the businesses we give money to or influencers we support and make sure that their values are in line with ours. This is key when we think about those who profit off of white supremacy in this country or are harming our environment.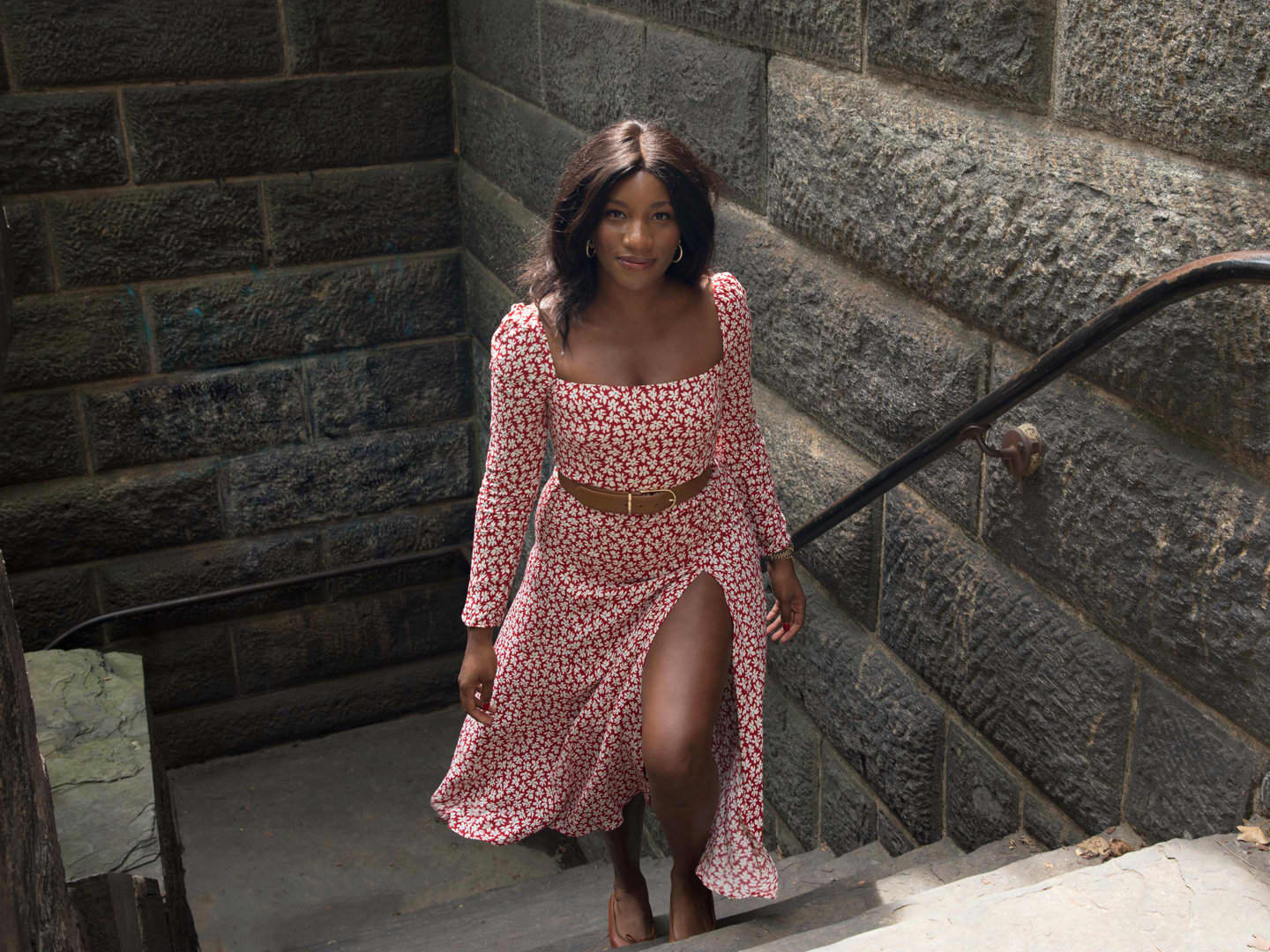 Danielle is wearing the SIGMUND in GRENADINE.
Tell us about the Prescod Sisters Podcast.

Danielle: Oh God! I hope we get it together soon. We got all the podcasting equipment and now it's time to just get it out there! You need to ask my sister because she only has one job and I have many LOL.



What are some projects you're working on?

Chrissy: Well it's been almost 3 months since Danielle and I have launched our consulting company, and it's crazy how quickly time is going by and what we've been able to accomplish already. We're continuing to expand our client list, and continuing to bring our Anti-Racism class to more people. We just recently opened it up to the public and had our first community class.



What does sustainability mean to you?

Chrissy: People and companies that consider the social and environmental impact of their actions—and make decisions that are the least harmful to people and the planet.



How has sustainability impacted your relationship with fashion?

Chrissy: It's definitely complicated my relationship with fashion and the industry itself. I've spent a lot of time, especially recently, thinking about my consumption and the brands I give money to. Especially where luxury is concerned. So much of why we spend money on luxury items is because of what it communicates to other people—that we are worthy, that we have status. I don't want people to think that I'm worthy or someone to aspire to be like just because I have the latest designer handbag or shoes.



What first got you interested in sustainability?

Danielle: I was raised in a way where I was always thinking about my impact on the planet. We were never ever allowed to litter. We always recycled and I think in my family, we always thought about the earth. I took AP environmental science in high school and it turned me into a full crusader, but I will admit in my younger years I was not as invested as I am now in ways to improve personal behaviors. I shopped fast fashion because it was easy and affordable. I cut that habit out about 7 years ago, but I recognize that it is a privilege to be able to love clothes and opt out of that system.



Tell us about the Black in Fashion Council.

Chrissy: The BIFC, led by Sandrine Charles and Lindsay Peoples Wagner, aims to secure the advancement of Black people in the fashion industry. This industry has long benefitted from white supremacy and anti-Blackness. Even when Black people make it into these predominantly white spaces, it's not always safe for us—we face microaggressions within the workplace, pay disparity, and not truly being seen or valued by our peers. So, the goal is to help hold brands and companies accountable for creating more diverse and more inclusive environments and also provide resources to help them really achieve this.



How did you get involved with the Black in Fashion Council?

Danielle: I got put on an email early on in the FedUp Rising with so many of my Black fashion colleagues which led to a Zoom call with basically so many Black professionals in the industry. The council formed after that call.



What steps would you like to see the fashion and beauty industries take to be anti-racist?

Danielle: There's so much that needs to happen. I think one critical thing would be to prioritize Black media at the same level as white media. The only reason that I know how wide that disparity is is because I worked in both.
Do you find the role of the influencer has evolved and in what ways?

Chrissy: I think there's so many different types of influencers, but COVID and now the resurgence of BLM has really highlighted the need for influencers who are able to speak with sensitivity, empathy, and ones with real integrity. I think those are the influencers who will have real longevity.

Danielle: Yes and no. The entire economy is really dependent upon influencers and so it has evolved in the sense that they are an indispensable commodity, but they seem to constantly be alluding any kind of real responsibility. If I say the phrase "influencer apology video," you know exactly what that is. In any other industry, the things that people have gotten away with doing or saying would be a fireable offense. There is no system of checks and balances in place for influencers. The influencer paradox is really complicated but overall, I think our culture's tendency to hero worship is really problematic.



A couple years ago you wrote about giving up Instagram for Lent. How has your relationship with the platform changed since then?

Danielle: I really took stock of what I was giving attention to. I unfollowed anyone who edits their body in photos and just has an overall tone-deaf image. It was incredibly liberating. I now have a 15-minute daily limit to IG and most days I stick to it. It feels healthier.



You mentioned "Keeping up a charade of aspirational authenticity started to feel suffocating" in regards to responding to your followers and presenting yourself on the app as open and honest – In what ways have your feelings around this changed or stayed the same?

Danielle: When you have followers, people in a lot of ways, feel like they own a big piece of you. They have increased access to you and it's 24/7. This also invites people to place their opinions, judgments, hopes, and aspirations on you and it can be draining. I can only be me and do so much. Chrissy for example answers a lot of her DMs. I do not have the energy to do that and talk with strangers like that. I am trying to get better at it because I do really want to engage with people, but it's a lot. I am so grateful that people follow me and like what I say, but sometimes, if they are looking for help, I think the best thing to do would be to seek it professionally. I think everyone needs the space not to be perfect but I also think that as someone with "influence," there is an expectation that you will do more good than harm so I try my best to do that.



In light of COVID and not being able to see as many people in person, do you find the app can serve to connect people, or is there still pressure to perform? How is that balanced?

Danielle: Haha no I don't! I am a natural extrovert, and I miss people often. I miss the energy I get from interacting with people but how I am on social media is not a performance. It's not all of me, but it is a real version of me.

Chrissy: Ultimately social media is about connecting with others, and I use it a lot to stay in touch with friends, make new connections, and get inspiration. I think in the beginning of COVID I felt that there was a pressure to be creating more content because you're at home and what else is there to do? But I just didn't feel like actually putting on real clothes. It wasn't until I moved back to my parents' house at the end of April that I started to enjoy getting dressed again and creating content. It's still a bit hard though because of everything going on in the world—and I want to be thoughtful about the content I'm creating. I don't want to just throw a post up for the sake of posting.



What does taking care of yourself mean to you and how does it impact your mental health advocacy?

Chrissy: It means being in tune with my body and emotions, listening to what I really need—whether that's rest, to get my thoughts down in my journal, deep breaths, comforting food, a relaxing bath, or music that can transform my mood. Self-care has been a necessity for me since I had my first panic attack as a teenager, this was long before "self-care" was the trend. I want others to see and understand that we should be invested in our pleasure and doing things that bring us peace and comfort.



Do you have any pets?

Danielle: Yes, we have a family dog named Harry Potter.



If you could star in any movie/show, which one would it be?

Chrissy: Clueless



Who is your favorite author?

Danielle: I think that first answer might reveal who, but in light of recent events, I will have to say something different. Many books by many different authors have had a profound effect on the way I think and express myself. Some of my favorite authors are Hanya Yanagihara, Tayari Jones, Jade Sharma, Lindy West, Kiese Laymon.

Chrissy: Alain de Botton



The best thing about NYC?

Danielle: Not needing a car.



What's the best thing you found shopping vintage?

Danielle: I got some amazing dresses shopping vintage in Arizona two years ago. One has a very southwestern motif and is labelless. The other gives me Megan Draper vibes. I also got my senior prom dress shopping vintage.

Chrissy: Christian Dior suit, still had the tags on it!



What's your favorite podcast right now?

Chrissy: Ask a Matchmaker



What are you bingeing right now?

Danielle: Indian Matchmaking on Netflix
Chrissy: Moesha on Netflix