Diego Lucas
Getting stuff done with Sophia Li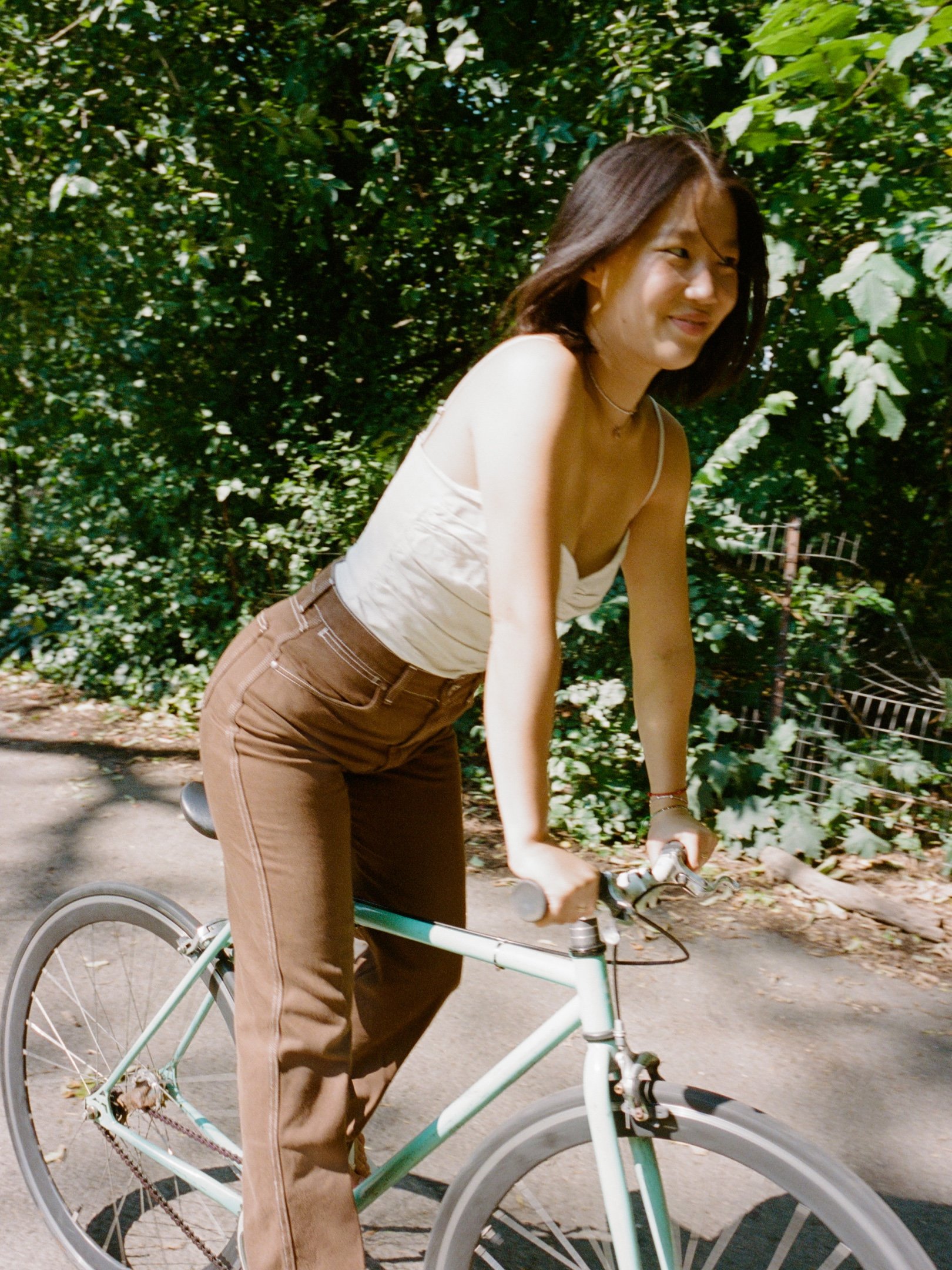 We've been taking some time to learn from people who are out there getting stuff done. Meet Diego Lucas, a non-binary immigrant from México City, first-generation DACA recipient, graduate of UC Berkeley, and makeup artist.

Suggestion: play Soledad y el Mar (feat. Los Macorinos) by Natalia Lafourcade while you read through this.
Tell us about your journey.
My name is Diego, I am non-binary, and my pronouns are they/them. I was born in Mexico City but was raised in the heart of Los Angeles. I am a first-generation DACA recipient, and a graduate of the University of California, Berkeley with a degree in English literature. In regard to my gender expression: let me tell you, it's been a journey! Growing up, I never felt entirely comfortable when grouped with men or women. However, I have always identified as a feminine person. The first time my femininity was shut down was by my immediate community. I endured negative comments from family, friends, and strangers on the bus. It was then that I began to hide my femininity because to be feminine was to be vulnerable in a world where I was conditioned as a boy. In many ways, I was raised by the internet. A safe space where I first found a community that allowed me to see beyond my reality while connecting with others across the world. I was fourteen when I first befriended a trans person. I would go over to their house after school, style them, play dress up, and read books. Those were the first times I felt accepted and safe enough to explore my gender, gender expression, and sexuality. It was at this age that my exploration with makeup and clothing really began. I stopped caring so much about public perception and adopted a very adolescent, angsty, "fuck off" attitude. The internet allowed me to prioritize my own peace and comfort as opposed to those who expected me to uphold a rigid system of gender.
Who inspires you and why?
My community inspires me. My chosen family, my sisters, my partner. The work that we do fills me with hope and the encouragement to keep going. The wonderful art that we create, mutual aid funds, and communities that show up for one another during these trying times. For example, the writer, poet and activist Alok Vaid-Menon inspires me and helps me feel less alone in this world. Roughly three years ago, my sister Damina introduced me to Alok's work. The first poetry book I read posed the question: "What feminine part of yourself did you have to destroy in order to survive in this world?" This was followed by: "What would it look like to leave the house and not be afraid of being bashed?" I find myself revisiting this piece often. It is questions like these that allow me to better understand my experience through others like me.
What cause or causes are important to you?
Immigration is deeply personal for me. The way this country and most of its inhabitants see and treat migrant people is dismissive, grossly political, and inhumane. I don't think enough people understand what this does to families and communities, and I say this not only as an immigrant myself, but as someone who has had family members profiled by police, detained, and deported. Although our loved ones may be alive and living in another country, they are still gone, and we often have no date and no way of knowing when we will meet again—people need to understand the grief this creates for people of migrant experiences. We are more than our trauma. We are healers, artists, and overall complex people. To be an immigrant is to dare to reimagine. We are not to be reduced to a political point of view. This is my life, and these laws and policies continue to affect my community in irreparable ways.
What change do you hope to see in the rest of 2020?
I want there to be an active intervention for the lives of trans people; protective legislation, medical support, and spaces for us to thrive in.
More relatable role models. It has been wonderful to see activists, organizers, and community members gaining platforms during the uprisings.
I hope to see more people actively using gender-inclusive and gender-neutral pronouns.
Beyond diversity on-screen, I would love to see the diversity within workspaces and in our personal lives.
What are some projects you're working on?
I am working on a few projects, some that I am not at liberty to reveal just yet. But I will say that they are makeup-related, community-driven, and the medium is film. Personally, I'm working on creating posters in Spanish to distribute at Echo Park. With these posters, I aim to inform people on the crisis trans women are facing with an emphasis on trans people in order to initiate more conversations with our elders, siblings, or coworkers. I hope these posters create a dialogue between community members. Oftentimes we get caught up in wondering when the best time to educate is. Rather than waiting for a community member to make a negative remark so we can call them out, I hope the posters can be a way of bringing up these issues and realize that we are a people deserving of human decency.
Tell us about "the community is the antidote."
Community means everything to me. It is through community that I am the person that stands before you today, and it will be through community that we heal this world. Having people to lean on and keep you accountable to be your best self is the antidote to the infections that are greed, selfishness, and capitalism. The biggest lie Western society has fed us is that of individualism. It leaves a spiritual blind spot that keeps us out of touch with the real-life implications of this world. We are all so interconnected, yet this world tells us we're not. I don't think my accolades are ever solely mine. There's a collective behind me, there's love behind me, there's support, and difficult but necessary conversations behind me. Even this project and interview were brought to you by a collective of my loved ones.
What role has makeup played in your life?
Hmm, have you watched the film Sorry To Bother You by Bootsy Riley? Well, Tessa Thompson's character throughout the film expresses her feelings through her earrings—sometimes they have words, sometimes they don't, but they're all unique and colorful. Similarly, my experience with makeup is that it is very much an indicator of how I'm feeling that particular day, or of what energy I'm tapping into. On days I feel vibrant and loud, I might wear a bright purple lip. If I'm feeling particularly sad, a deep berry. If I'm stepping out to the liquor store or to run errands, a bold brown lip liner indicates I'm not to be tried. In recent years, I've sported bold lipstick colors that fully outline my lips. Back in the day, I was teased about my full lips—I found old photos of myself on Tumblr where I would intentionally make my lips look smaller, but now I embrace them. Makeup has also allowed me to create new connections with people! Being a makeup artist is one of the most intimate services you can provide, yet it's often disregarded because misogyny runs deep and it's a gendered field. I strive to provide a safe and comfortable environment for all of my clients. We take the time to know each other and talk through any insecurities. I work with a really light hand. My intention is never to hide the face or morph it into something it is not (unless requested).
What's the most surprising thing you've learned on your journey with makeup?
I have been most surprised by just how malleable this art form is. For me, it has been a liberating outlet for self-expression. For most women, however, it is not liberating. Instead, it is something women have to do in order to be seen as presentable and professional. Otherwise, women are categorized as "undone." This is particularly so for Black and Brown women. For trans women, it becomes a tool for survival, whether or not you can blend into the seams of society and "pass." Others might use it to cover up tattoos in professional work settings. Makeup, like most things in this world, is intersectional. While I never found this surprising, a lot of my hetero male friends are always surprised to find out that their favorite rappers, politicians, or sports hosts wear makeup. It's silly to me because at the end of the day it all washes off, it's not permanent.
What's the biggest misconception about identifying as non-binary, and what would you say to correct this?
One misconception is that people oftentimes people think that we're "new." Non-binary and gender non-conforming people have been around since the dawn of time. I've read beautiful myths from Mexico, poems by two-spirited people in Native American culture, and in Indian culture there are deities that transcend gender and are celebrated. Another common misconception is assuming that non-binary people all use the pronouns "they/them." This would be incorrect, as some non-binary people don't use these pronouns and are very much so non-binary. Language is powerful. For example, the wording of this question above invalidates and suggests that non-binary people "identify as" rather than "are" which would imply a state of being.
Can you tell us more about the posters you've made to raise money for Black trans women and trans women organizations?
On June 4th, in the midst of the BLM uprisings, I launched a homegrown fundraising initiative with the aim of allocating money for transgender people, prioritizing Black trans women in need. After raising over $5,600—and continuing to raise more—I donated to organizations such as: "For The Gworls Medical Fund," "National Queer and Trans Therapist of Color Network," "Black Trans Protestors Emergency Fund," and "Gender Justice LA." The Black Transgender community has been hurting long before the uprisings, but I felt an immediate urge to mobilize and support in a way that was safe and accessible for me. I reached out to a local Risograph company in Chinatown who offered to print 200 individual posters for me. As of now I have no plan to re-print these posters. But make sure to follow me on Instagram for future posters I create.
What's the best concert you've been to?
Easily Raveena's concert in 2019. The energy was immaculate. Everyone was incredibly friendly and welcoming. The Palo Santo and breathing exercises really set the tone for the healing force that Raveena and her band bless us with. I was so in love with the evening I didn't want it to end. My best friend and I bought merch to support and took a lovely stroll afterward. Highly recommend you give Raveena's records a listen <3
Who is your favorite author?
Omg… such a difficult question… but Audre Lorde, her collection of essays "Sister Outsider" is an essential read to understand the importance of language in a culture of violent silence. She was also a Black Lesbian woman who wrote poetry about the body and asked the largest and most intimate of questions.
The best place to eat in Los Angeles?
The beautiful thing about Los Angeles is that you don't have to pick. There's so much great food! Koreatown never disappoints, but be patient with parking.
Breakfast for dinner or dinner for breakfast?
Dinner for breakfast! I don't like to be limited by only breakfast food options in the morning hehe.
What are you bingeing right now?
Ooo I'm mostly binging films with my mom right now. I just got us a projector and it's been a nice activity lately. Some of these films include: Y tu mama tambien, Paris Is Burning, and Gentefied.