Krystal Persaud
Getting stuff done with Krystal Persaud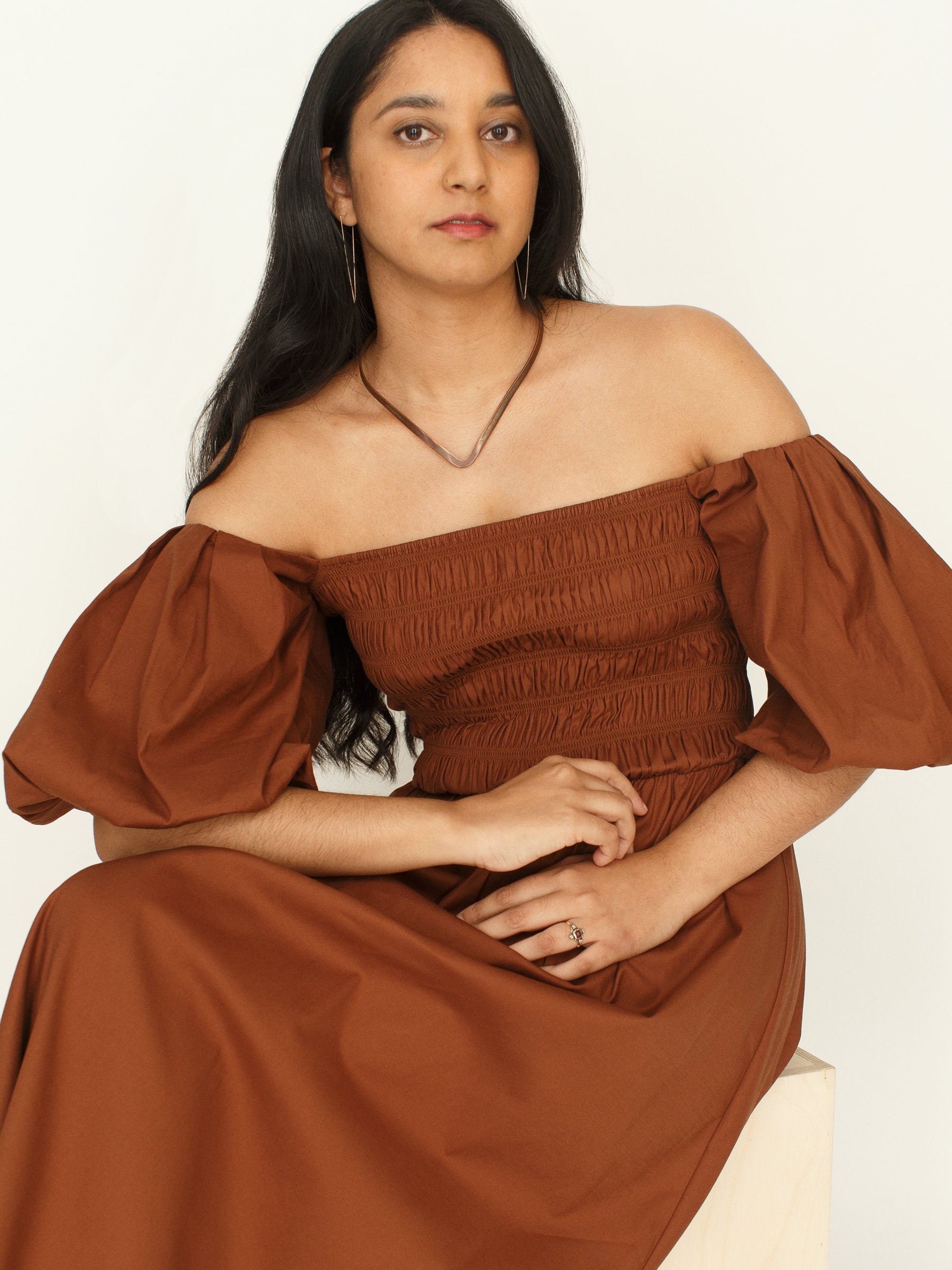 Meet Krystal Persaud, an industrial designer and founder of Grouphug Solar, a startup working to make renewable energy accessible to all.
Tell us about your journey.
I'm a first generation Guyanese-American from New Jersey. I was always the black sheep of the family because my 3 older sisters all work in medicine and I went to design school. I've always loved the intersection of art and science and I remember feeling so conflicted in high school because part of me wanted to be a painter, but part of me loved science experiments. It turns out that product design was the perfect match for me.
Who inspires you and why?
I'm a big fan of children's books. Before jumping into the solar industry, I was a toy designer for over 6 years. I love Elise Gravel's work - she tackles complex subjects with these whimsical, relatable monsters.
What does sustainability mean to you?
My hope is that sustainability as a concentration will actually go away. Sustainability needs to be integrated and prioritized across every field. It's a requirement to consider the environmental consequences and systems for absolutely everything we do. We talk about solar energy as "renewable" or "clean" energy now, but soon it will just be "energy".
What cause or causes are important to you?
Renewable energy access for everyone that is affordable and independently owned.
What are some projects you're working on?
We're working on a new version of our Window Solar Charger that has a solar pattern inspired by fashion, it's gorgeous - I can't wait!
Tell us about Grouphug Solar.
I started Grouphug because it solved a problem for me! I live in an apartment in New York & I really wanted to do something in renewable energy. I was the type of conscious consumer who bought stainless steel straws, reusable water bottles, etc. But when I started researching how I could invest more into sustainable habits, I learned that energy production is a leading driver of climate change. So at the time, I thought to myself, "Well, I know the answer, I'll go out and buy solar panels!" But I couldn't figure out what to do on my own because I didn't have a rooftop. I found the solar guides on the internet so confusing. So, I started making solar panels that could harvest sunlight through my window and look like a piece of home decor. I literally made one first for myself and then friends started asking for them. That is how our first product, the Window Solar Charger, was born. We started off on Kickstarter in 2019 and raised $70,000 to bring the product to market. Then in 2020, we were on Shark Tank and received a seed investment from Mark Cuban. It's been a wild ride so far!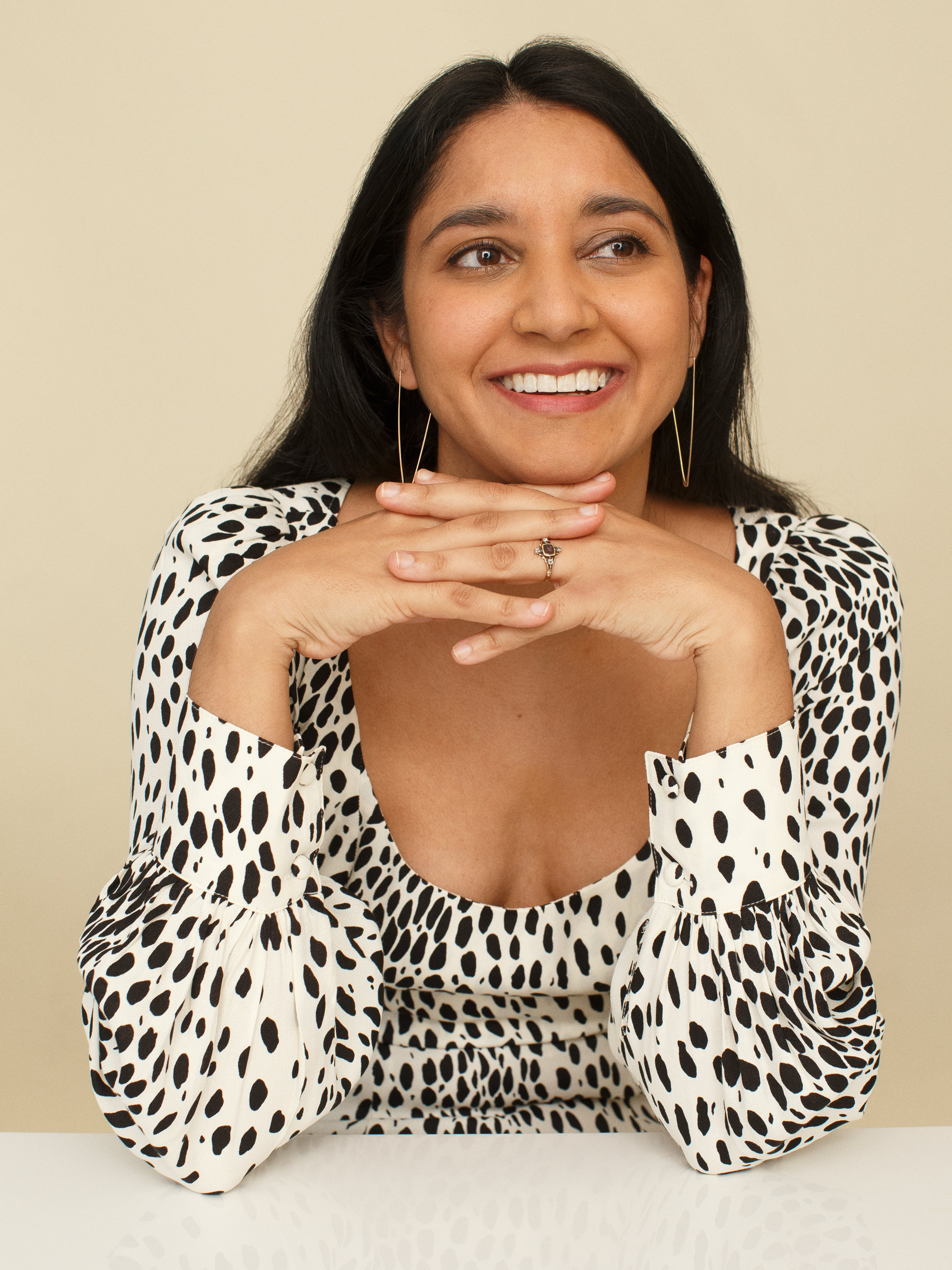 Krystal is wearing the Alessi Dress in CHEETAH.
Grouphug started out as an activist collective. How have you kept activism central to your mission?
For us, it's all about design activism. Design activism is using creativity and design to raise awareness or highlight an issue. With every product that we make, we are doing just that. Our Window Solar Charger looks like a piece of home decor, but it's really a guerilla way to get solar energy into your everyday habits.
How do you see the solar industry developing as renewable energy becomes more vital?
The solar industry is on the verge of exploding in the U.S. Right now only 2% of the U.S. is powered by solar energy, yet over 80% of Americans believe a switch to clean energy is essential in the future. I think we are going to see a lot more innovation in design, marketing, pricing, everything. It's just the beginning.
What's the future of renewable energy?
The future of renewable energy is decentralized energy systems where people own their power. I can imagine rooftops covered in designer solar materials. Monopoly utilities will become a thing of the past and we'll have a more clean, resilient grid infrastructure. These are dreams, of course!
How has your experience been being a woman in STEM (science, technology, engineering and mathematics)?
It has honestly been a mixed bag. One one side, I personally feel very empowered and confident in my industry. I'm lucky to have grown up in a family that encouraged me to pursue STEM subjects. I'm also fortunate to have worked at the female-founded tech startup littleBits and have Ayah Bdeir as a mentor. On the other side, despite my 10 years of experience designing and manufacturing consumer electronics, I still get unsolicited feedback from male peers. Most importantly, as CEO of Grouphug, I try to use my leadership position to amplify other women in the space and hire more women.
How do we make tech and startups more inclusive and accessible?
First by ensuring there is equal access to STEM education at a young age to all genders, ethnicities, and income levels. Then we have to prioritize women & BIPOC while hiring. In order to solve the world's problems, companies need to diversify. How else can they ensure they are delivering the best solution, if they are only thinking from one perspective? It has to change.
What advice would you give to young people interested in pursuing careers in sustainability?
First, we need you. There is absolutely room and a need for everybody. My advice is to pick an aspect you are passionate about (energy, fashion, justice, food, etc) and go for it!
As a small business owner, how do you balance Grouphug's progress with the potential environmental costs of growing a company?
We are committed to growing slowly and owning our product lifecycle. The reality is that the most sustainable product business would be to make nothing at all. I view Grouphug as an engaging entry point into solar energy for the average consumer. Does every person on the planet need a Window Solar Charger to live? No, they don't and that's okay. So we only manufacture small batches that meet our demand. On top of that, we offer to repair, replace, or help recycle units to ensure nothing ends up in the landfill.
Besides Grouphug, how do you incorporate sustainability into your life?
I've been living low waste since 2009. I've always had a passion for sustainability since college after my project, "The Closed Loop Experiment", where I studied all of my garbage. From sustainable cleaning products, to second hand clothes, to massive solar panels - I try to do a bit of everything!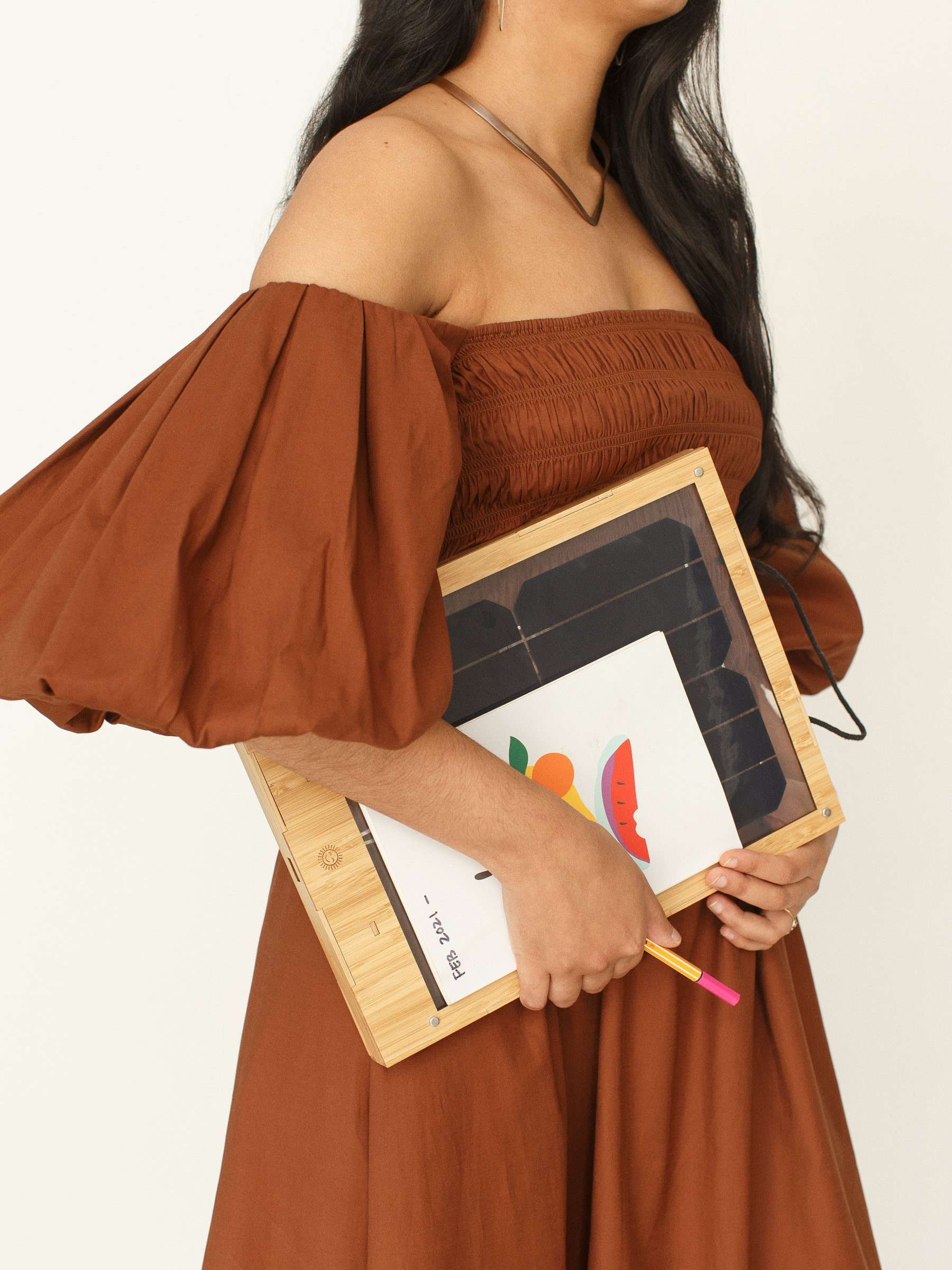 Krystal is wearing the Tuli Dress in CINNAMON.
What's the coolest custom solar panel you've ever made?
Hands down, the coolest solar panel I've ever made is Solar Cat, our 140 watt cat-shaped solar panel. She meows and powers a phone charging station at the New York Hall of Science in Queens.
Best place to eat in NYC?
My weakness is donuts, they are my absolute favorite food. There is an amazing diner in Brooklyn that has the best chocolate glazed donuts with rainbow sprinkles. But I'll never tell you where it is! It's my happy place.
What's the last book you read?
Okay this is a bit embarrassing to admit, but it's Harry Potter and the Deathly Hallows. During the day, I'm really focused on my work and at night I enjoy indulging in something easy and fun. I end up re-reading the entire series every few years.
If you could star in any movie/show, which one would it be?
I'm a huge nerd - so I would love to be an elf in Lord of the Rings (Lothlorien, not Mirkwood) or a jedi in Star Wars. I love sci fi and fantasy movies - the costumes are part of what make them so magical! I have actually dressed up as Darth Vader for many years in a row…recently!