Wash Smart
Wash smart
Good news: up to two-thirds of clothes' carbon footprint occurs after you take it home. That's incredible because a lot of all the nasty stuff in the fashion industry is in your hands to fix. The extra good news is that it's not even hard stuff to do. Here are some easy ways to make a difference.
Only wash as needed. Not only will you save water and detergent, but your clothes will last way longer. Next time you don't do laundry in a while, you're not being lazy, you're just being a super good person.
Skip the dryer. Normal tumble dryers emit 40 million tons of CO2e in the US each year¹. It's way better to air or line dry–plus hanging your clothes to dry looks super chic.
When you do the wash, set your washer to "cold" to save energy and help your clothes live a little longer (heat can break fibers down). Also, switching from hot water to cold or warm every four out of five loads would save 864 pounds of CO2 per year². That's the same as driving 1,000 miles, which is a really long road trip.
Use spot cleaner. If it's only dirty in one teeny place, exercise that spot cleaner.
For denim consider bagging and putting it in the freezer for a day or two–this will kill bacteria and odors, keep your jeans in better shape and is just a chill way to do laundry that your science teacher would have loved.
The first step to making your shoes last is proper care. Before wearing them for the first time, we recommend spraying your shoes with an eco-friendly spray (like Jak Magic Spray) that will protect them from things like water, oil, and dust. Be sure to reapply the spray every few months. When storing your shoes, it is best to keep them in a cool, dry environment. Also, polishing your leather shoes works well to keep them looking practically new. Check out our FAQs for additional shoe care information.
When you machine wash anything made from synthetics—even recycled stuff—it sheds tiny bits of plastic called microfibers, which contribute to plastic pollution of our waterways. Clean up your act by hand washing your stuff in cold water—especially swimwear and activewear. You can also use a Guppyfriend bag to capture microfibers when you hand or machine wash your stuff. They're available right here on our website.
Some professional cleaners now offer green dry cleaning that use water as the primary solvent. This type of cleaning can substantially reduce toxicity and CO2 emissions associated with garment care.
The primary chemical solvent used in dry-cleaning, perchloroethylene (or perc), is a toxic chemical capable of causing liver damage and respiratory failure. Yikes. It can also lead to groundwater contamination and air pollution. So even if your cleaners advertise as "green" or "organic," be sure to ask if they use perc, hydrocarbons, or D-5 cleaners, and be sure to avoid the toxic stuff. Just say no to perc. Check out our garment care guide for truly green cleaners near our stores.
¹ "https://thenewfashioninitiative.org/four-super-easy-sustainable-laundry-tips/"
² "https://quantis-intl.com/wp-content/uploads/2018/03/measuringfashion_globalimpactstudy
_full-report_quantis_cwf_2018a.pdf"
Blueland × Reformation
We've teamed up with sustainable cleaning brand Blueland to make it easier for you to keep your home nice and shiny, without the negative impact on the environment from things like single use plastics. The kit includes 40 fragrance-free, plastic-free laundry tablets and a Forever Laundry Tin, which means you don't have to keep throwing out empty jugs of detergent. The tablets are formulated without dyes, phosphates, chlorine, parabens, and phthalates. You just put one tablet into the drum before adding clothes to help make your washing more earth friendly.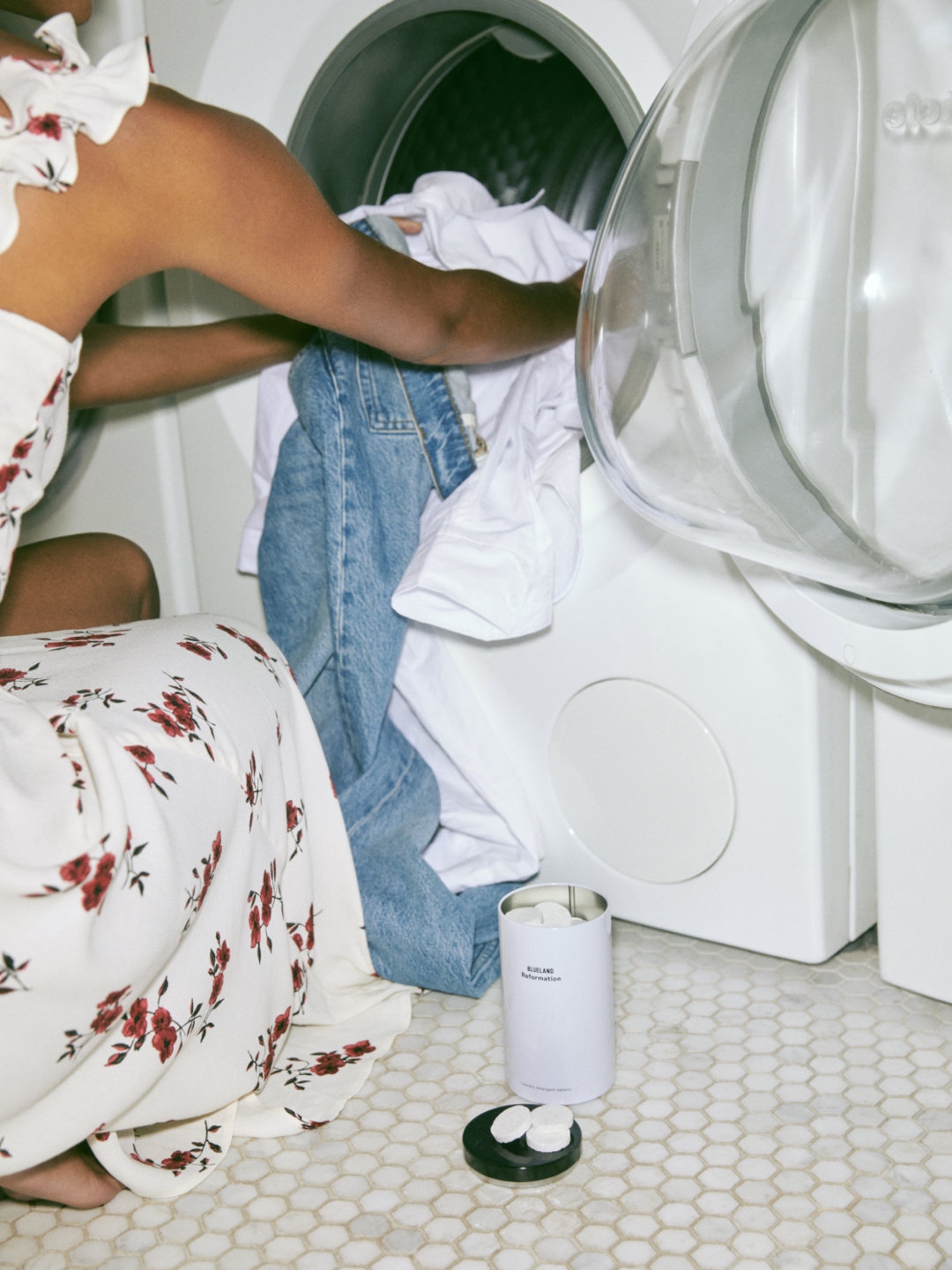 Circularity
Fashion today is based on a take-make-dispose model that is very wasteful and polluting. We actually have enough clothing and textiles in existence today to meet our annual demand globally. Circularity eliminates the concept of waste and reuses + recycles materials back into the fashion system. The average American throws away 68 pounds of clothing and textiles a year¹. That's almost enough to meet most airlines' overweight baggage fee. Americans also donate or recycle less than 15% of clothing and shoes, though nearly all of it could be recycled or reused². That's why we signed the 2020 Circular Fashion System Commitment with the goal of recirculating 100,000 garments a year. We met this goal but wanted to keep pushing for better so we upped our goal to 200,000 garments a year. We've also been working on a handful of projects to incorporate circularity in all steps of the value chain.
We've partnered with THREDUP to clean out your closet and you'll earn some well-deserved Ref Credit (win-win!). Let's give your old clothes a second chance at romance. Learn more about THREDUP.
There are donation centers pretty much everywhere. Try your local Goodwill, Salvation Army, American Red Cross or Dress For Success (a non-profit organization that provides interview suits and career development for low-income women).
¹ Claudio, L. (2007). Waste couture: Environmental impact of the clothing industry.
² Kant, R. (2011). Textile dyeing industry an environmental hazard.